IT Services and Support for Franklin, St. Lawrence, Clinton Counties of New York Businesses
How Much Longer Are You Going To Put Up With Your IT Service Provider's Poor Service, Lack Of Response, And Arrogant Attitude Before You Fire Them?
Give us a call and let us show you what fast,
friendly and highly-responsive outsourced
IT services should be for your small to
medium business:

518-483-4100
TOP IT SERVICES PROVIDER FOR BUSINESSES NEEDING
Managed IT Services
We'll manage all of your IT services for a flat-rate fee.
Network Security
Let us help you keep your company's data safe.
Data Backup and Recovery
Prevent the unexpected from ruining your company.
Vendor Management
All the information you need at your fingertips.

CST Group: trusted computer support for businesses throughout New York – Let us help you today!
Maybe you're concerned with the current rising costs of your IT services, or maybe you are just running short on time because of your expanding business and need to hand over the reins of some services to someone else. Whatever your reason, we can help you with quality IT services today.
Your business can save money and time today with CST Group's managed services, network solutions, IT support and more.
Our custom service packages deliver what you need and want without overstepping the boundaries of your budget. From cloud services to data backup, we're here to team up with you and your company for expert support.
So if your company is in the USA, CST Group can help you today.
8 REASONS TO Choose
CST Group TO SUPPORT YOUR COMPUTER NETWORK
1
In-House NYS & Federal Compliance Specialist!  We have an In-House Compliance Officer who specializes in ensuring NYS and Federal requirements are met.  Need to complete NYS DFS Cyber Security Regulations?  We got your back! Need to be HIPPA Compliant?  Do you have third-party vendor security polices?  No worries, we got you covered!
2
Over 60 Years of Combined Experience! – In business almost 20 years, our staff is familiar with all aspects of technology.  We have seen it all….and then some!
3
DTMv.2 – Our Exclusive Technology Documentation!  Is your existing IT company holding your information hostage? Is it something you could easily retrieve or is it secret only held with your current IT company?  If so, you need our DTMv.2 documentation!   Our documentation process will organize YOUR information all in one place.  Your business should NOT be without it.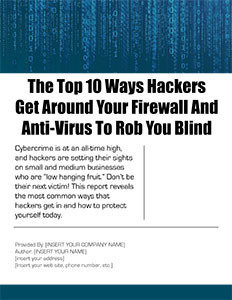 The Top 10 Ways Hackers Get Around Your Firewall And Anti-Virus To Rob You Blind
Cybercrime is at an all-time high, and hackers are setting their sights on small and medium businesses who are "low hanging fruit." Don't be their next victim! This report reveals the most common ways that hackers get in and how to protect yourself today.